Coffee & Tea Maker Facilities
Yes
Complimentary Bottled Water
Yes
Indulge in the inviting Permier Deluxe space combine state-of-the-art technology and intuitive amenities with the hotel's signature conveniences, including wood floor, a fine linen bed and relaxing bathroom. Nestled not far from the elevator, these expansive accommodations overlook Ho Chi Minh City Street through large windows, offering inspiration day and night.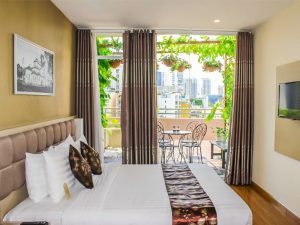 Elegant colors with dark brown and white accents set a modern scene in the large sitting area furnished with soft armchairs and an comfortable work desk. Settle in and reconnect with friends near and far using complimentary High Speed Internet Access. You can also stay in touch with the outside world via the 40-inch LCD TV.
Equipped with cable channels, it invites you to recharge while you relax with a refreshing beverage from the mini bar, hot beverage from the coffee and tea maker, or complimentary bottled water and an assortment of sweet things present enticing refreshment options.
Especially, Signature Room with the large balcony and the relaxing facilities, the room provides the comfortable stay and the wonderful view towards the city center by night
When it comes time to turn in, a king-size bed beckons, wrapped in white linens and topped with plump pillows will promise you a total relaxing and rejuvenating sleep. The modern, monochrome bathroom adds to the restorative offerings with a separate, glass-enclosed rainforest shower. Signature bath amenities and a light – filled ambience further elevate the space.